Tracking is a high precision, digital travel recording and review system. It is a satellite based, radio positioning network that cross references with digital street maps in the continental Unites States. This system can be used to accurately evaluate travel activities, including date, time, speed, and location.
Once the unit is installed in a vehicle, it can be left for days, weeks, or even months.
Devices have greatly improved the quality of investigations. Tracking is a proven resource guaranteed to provide a higher probability of obtaining results.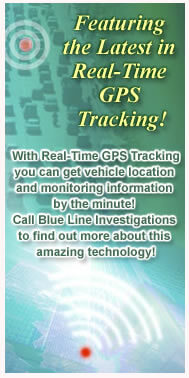 The accessibility and convenience of tracking technology has literally revolutionized the way surveillance is conducted. Unfortunately, many investigators fail to take advantage of this cutting-edge technology.
Domestic Vehicle Tracking
Tracking service starts as low as $350 per week.
Contact Us at 1-757-620-9722